Dec 9, 2009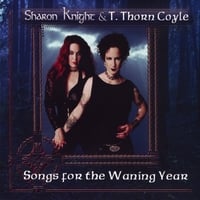 >Well well well, look who's back! That's right, H1N1, hard drive crash be damned, it's us and we're back for Episode 61, thank you so much for downloading the show.
Tonight, Mojo begins his look at the four basic male Archetypes starting with The Warrior. Warriors, come out to play-ee-yay. Sparrow has a Yuletide tale from the Witchy Godmother to share with everyone.
Tonight's feature album is the self titled album from The Devil Makes Three. From The Devil Makes Three, we're going to hear Shades and Old Number Seven and we end the show with The Plank. Great stuff. We also hear Christmas in the Southland by the Bone Poets Orchestra and from Songs for the Waning Year by Sharon Knight and T. Thorn Coyle, we hear Solstice Prayer.
Yule is just around the corner, we can't promise another show before Yule, so everyone here at The Wigglian Way would like to wish you a happy holiday season, whichever holiday that you are celebrating. We're a little spoiled around here at The Wigglian Way because you, dear listener, make it seem like Yule all year round. Every download, vote, comment, and email is a gift to us - thank you!